Once more , we are grateful to everyone who showed up on Saturday, 29th of September 2018. We are able to donate a total of 1175€ to Stichting Ikunda!
Stichting Ikunda is active in empowering and educating girls from very poor background in the Moshi area in Tanzania! Daynes Moshi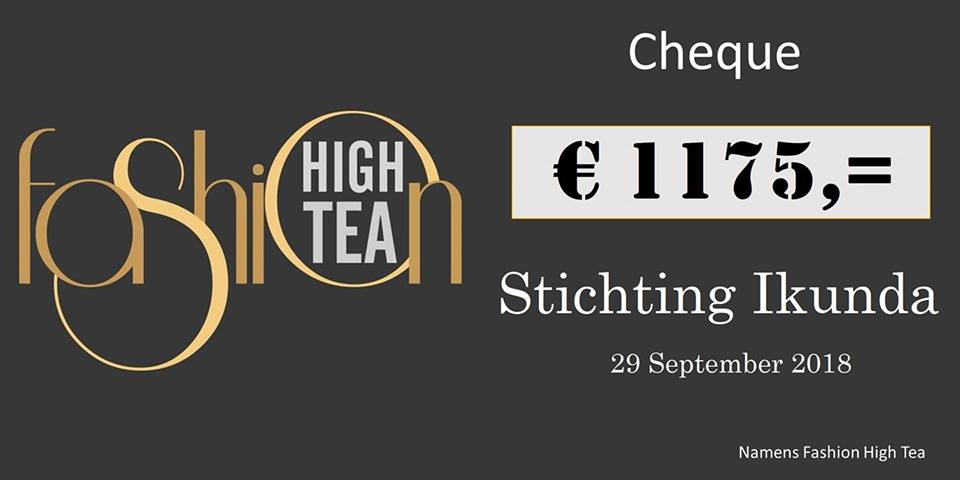 A CONSCIENCE FOR THE FASHION CONSCIOUS
Beautiful ladies, dashing gentlemen, high-fashion outfits and delicious food all form the spectacular mix that brings together hundreds of fashion enthusiasts to Apeldoorn every year.
The Fashion High Tea (FHT) is an annual occurrence and is the brain child of Caroline Pouw, who by her own right is a fashion authority. The event is charity inspired and driven; Pouw's love for fashion, art and music plus the urge to give back to society drove her to initiate this great event, "The Fashion High Tea event is geared at raising funds for different charities by bringing together people of diverse cultures for an afternoon of high fashion, delicious nourishment, entertainment and business engagement" said Pouw.
This year, will mark the second time the event is held in the Netherlands and the charity of choice is the Ikunda Foundation, an organization that aims to create equal opportunity for all children through championing for the education of the girl-child in Tanzania. Proceeds from the event will help in funding the education of several girls from poor family who would otherwise not get an opportunity to attend school. The money will be used to pay for school fees, boarding facilities as well as school supplies for several girls in rural Tanzania. "We are not just aiming for the fashion conscious but strive to promote fashion with a conscience" emphasized Pouw. Last year the event raised money for Pamoja Kenia, a programme collaborates with local communities in Kenyan on water and sanitation projects that also provide employment for these communities.

Having worked as model and toyed with sewing and clothes design, there is no better person to host this occasion and bring together a number of upcoming and established designers from Turkey, Netherlands and Suriname just to mention but a few. "Some of the activities of this highly attended event include a fashion show with well-known and sought-after designers showcasing their talent as well as the latest trends in the world of high fashion." Says Pouw.

Last year's designers included Dauvia who has been hailed as the best African Designer in the Netherlands, Alisha Mode, originally from the Democratic Republic of Congo best known for her Make Fashion not War slogan, Afrostreet Kollection from Kenya, FashCrash from the Netherlands, Modeby Duc as well as Michaela A'solo. This year will also see a line-up of well-known diverse and talented designers. Additionally, there will be entertainment from various established as well as up-coming artists and plentiful and varied servings of sumptuous hor d'oeuvre by Chakula B.V,
a constant flow of champagne, tea and coffee and a DJ playing music till late into the night. Other partners for this event include Rituals, City Lounge-Apeldoorn, Vue, CatWalk4U, Sterkmerk.eu and Amersflora.
What better way to spend a Saturday afternoon than with great music, good food and beautiful women swaying and swishing on the catwalk while show-casing some of the best designs, all for a better cause. As Pouw clearly puts it " I only have one chance to be in this world, if there is any kindness or goodness I can show, I would rather do it now, because I will not be back once I am gone."